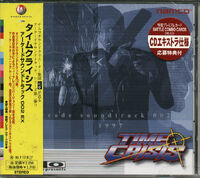 Time Crisis Arcade Soundtrack (タイムクライシス アーケードサウンドトラック, Taimu Kuraishisu Ākēdo Saundotorakku) is a soundtrack released in 1997. The entire soundtrack was composed by Kazuhiro Nakamura, who also worked on the soundtrack for both Arcade and PS2 versions of Time Crisis II.
01 Main Theme From Time Crisis
02 Order (Mission "Time Crisis")
03 Mission (Operation)
04 Mission Start (2nd Theme From "Time Crisis")
05 With A Tension
06 Dead Fighting (Dead or Alive)
07 Wild Dog (Theme of "Wild Dog")
08 Mission Success (Mission Completed)
09 Sunrise/Sunset
10 Triumphant Return (The Return In Triumph)
11 Serenity (Healing: Theme From Sunrise/Sunset)
12 Time Crisis (Time Crisis: Ultimate Mix)
Ad blocker interference detected!
Wikia is a free-to-use site that makes money from advertising. We have a modified experience for viewers using ad blockers

Wikia is not accessible if you've made further modifications. Remove the custom ad blocker rule(s) and the page will load as expected.