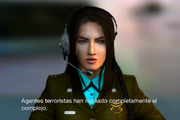 Rank: V.S.S.E. headquaters main top supporter
A young beautiful woman who supported Giorgio Bruno who goes solo as a globe agent to investigate another case of an evil terrorist organization, including the incident of the familiar WD threat of three heavy bomber aircraft hauling six live nuclear cruise missiles.
Ad blocker interference detected!
Wikia is a free-to-use site that makes money from advertising. We have a modified experience for viewers using ad blockers

Wikia is not accessible if you've made further modifications. Remove the custom ad blocker rule(s) and the page will load as expected.