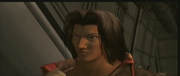 Name: Jake Hernandez (ジェイク・ヘルナンデス, Jeiku Herunandesu)
Age: Unknown
Hometown: Mediterranean Lukano (later Zagorias Federation)
Status:Deceased
The former second-in-command of the Lukano Liberation Army. Greedy and selfish, Jake leaked information about the Lukano Liberation Army to Giorgio Zott in return for money. Jake was paid a sizable fortune for his part in the capture of most of the Lukano Army's members. When Jake learned that Alicia had escaped, he tried to capture her as well for more money, but was unable to do so due to Alicia's V.S.S.E.-like combat abilities. Later, he betrayed the Zagorias Federation Army by stealing a tactical missile which is disassembled and loaded in a V-TOL aircraft. He plans to sell the missile to the highest bidder however Alicia was determined to stop him. In combat, Jake was an excellent gunman proficient in the use of knives, as well as martial arts. After the V-TOL aircraft had taken too much damage, Jake tried to take Alicia down with him by arming the missile warhead and tried to detonate it. He was finally shot by Alicia who used a sniper rifle and aimed it at the detonator. The sniper bullet fired destroyed the detonator and hit his head, killing him and the V-TOL aircraft plunging off a cliff causing it to explode into pieces.
| | | |
| --- | --- | --- |
| " | [Alicia: Jake, will you come with me to rescue Daniel? What are you doing?] If I take you to them (the rebels), I might get an extra bonus. [Alicia: You traitor!] | " |
| | ~ Jake Hernandez reveals his true colors as a Zagorian | |
| | | |
| --- | --- | --- |
| " | A man can't live on just dreams and ideals. Your brother was worth a lot of money. | " |
| | ~ Jake Hernandez, as he gets ready to fight Alicia | |
| | | |
| --- | --- | --- |
| " | I'm on my way! Did you get the warhead? [Zagorian soldier: Yes, sir. Missile separation is complete. We're currently moving them into the cargo.] (After seeing the Zagorias soldiers battaling against the Lukano Liberation Army soldiiers) Heh. Keep it up, guys. Once I get my money, I'm outta here. | " |
| | ~ Jake Hernandez, only concerned about getting money from selling the tactical missile while ignoring the Zagorias Federation Army's deteriorating situation | |
| | | |
| --- | --- | --- |
| " | Is everything ready? [Zagorian soldier: Yes, sir!] [Alicia: Jake!] Alicia... Don't ever quit, do you? [Alicia: You're not going anywhere!] (After dodging Alicia's handgun shot) Ha! With the money I'll make with this. I can go wherever I want! | " |
| | ~ Jake Hernandez, as he prepares to escape in a V-TOL aircraft loaded with a stolen missile warhead | |
| | | |
| --- | --- | --- |
| " | Damn you all! You're going down with me! | " |
| | ~ Jake Hernandez's last words | |
Music Theme
Edit
Ad blocker interference detected!
Wikia is a free-to-use site that makes money from advertising. We have a modified experience for viewers using ad blockers

Wikia is not accessible if you've made further modifications. Remove the custom ad blocker rule(s) and the page will load as expected.